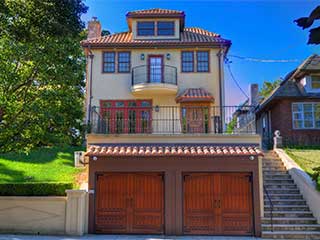 Most consumers take into account the price of products and their own financial situation before they buy them but when it comes to getting a new garage door, you need to take various factors into consideration, foremost of which is the material. This will determine more than just the cost of the new door, but also things like future maintenance requirements and energy efficiency. Every material has its own pros and cons and knowing what those are can help you make a more informed decision.
Additional Facts To Consider
There are all sorts of things that need to be factored into your decision. How durable should your new door be? Or alternatively, how much security should it offer? If you live in a dangerous neighborhood then a more durable material will probably be preferable.
The "Green" Aspect
If you have an attached garage, or if you'd like to lower your energy spendings, then getting an insulated door would be ideal. Wood, for example, is a natural insulator, but there are aluminum and steel models that come with added insulation which increases their R-value. Insulation means that less heat transfer will occur, and less air will escape. This will make it easier for your HVAC unit to maintain the desired indoor temperature, and therefore make it work less, and use less electricity.
Consider The Curb Appeal
Another thing to take into consideration is the external aesthetics. Your garage door is often the first part of your home people notice. If you are going to be selling your house, or simply want to make a good impression, then this is an important factor. Wood is considered to have a classic beautiful look and is therefore often preferred. However, it required more frequent maintenance, which is why there are faux-wood finishes available for durable steel doors, that will provide you with that classic appeal without the usual maintenance costs.
Last But Not Least - Security
Obviously, you want your garage door to protect everything you store behind it. That means your car, first and foremost, as well as lots of other belongings, like bicycles, garden tools, emergency kits and seasonal clothing, to name a few. That's where the door material comes into play. An aluminum door isn't the sturdiest of the available options, and although this material requires very little maintenance, it can easily bend and won't be as effective and strong as steel when it comes to ensuring security.
Consult With Our Team
Good news! You don't have to make this choice by yourself. Our experts at Garage Door Repair Auburn will be happy to provide you with all the information you need and recommend the perfect type of door for your home.