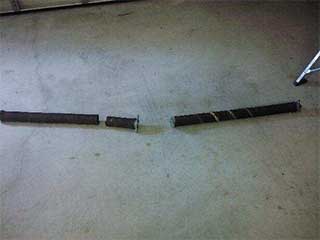 The springs fitted to your home's garage door bear a lot of tension. Naturally, after a course of many thousands of cycles, they are likely to weaken and wear over time. If your springs have failed completely, or you think they might be about to, our technicians can help.
Which Springs Do I Have?
Most domestic garage doors utilize one of two types of springs; torsion or extension. They work in different ways; torsion springs are long heavy-duty springs that typically run along the top of the door itself and use torque to function. Most homes have just one of these springs, although larger doors will need a pair. Extension springs on the hand come in pairs and usually run from the middle of the ceiling towards the door.
My Spring Broke - What Now?
If one of your garage door springs has broken, your first step should be to check for any signs of damage around your garage. A failing spring can be dangerous, especially if it causes the door to slam shut, so make sure everything (and everyone) is okay. Next, you'll need to contact our technicians to arrange a replacement. If you have a pair of extension springs fitted we'll need to replace them both in order to maintain proper tension balance.
What Warning Signs Are There?
It's rare that a spring will suddenly break. Most often they will show signs of weakening for a long time before they go, such as wobbling or sagging when the door moves. If the door doesn't balance properly, this is often a sign that the springs are losing tension - ask our technicians for advice if you think your springs are wearing out.
Contact Our Team Today
For help with your door's springs, contact Garage Door Repair Auburn today. Whether you need an emergency replacement or some help with worn-out springs, we can help you out.
Count on our team for:
Garage Door Safety Inspections
Track Replacement & Repair
Garage Door Cable Replacement
Genie Garage Door Opener Services