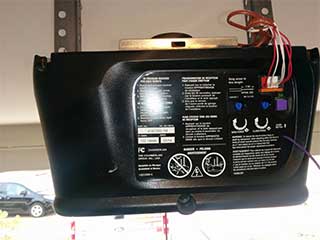 The transformation garage door openers went through over the years is quite spectacular. Primarily built simply to automate the process of opening and closing the door, these devices have undergone many changes to meet the evolving demands for higher convenience, safety, and security.
The Latest Improvements
Today, residential openers made by brands like Chamberlain, Genie, and Marantec work with rolling code technology, which allows for an enhanced sense of security. This feature forces the opener to change the access codes of your remote each time you use it, which prevents thieves from hijacking them and then exploiting your opener in order to break into your home. Another major addition is the integration of safety sensors and automatic reversal, which are designed to prevent the door from hurting any person or pet that gets in its path. As for convenience, today there are smartphone compatible openers that can be operated using an app, so it's never been easier to use your garage door.
Opener Rail Problems
This is the rail which runs from the opener unit to the trolley. It shields the chain, screw or belt drive and guides its movement. The trolley is connected to the door through an attached arm, which pulls and pushes the door when the DC or AC motor generates the required horsepower. If the rail becomes damaged or rusty, it can affect the performance of the opener, which is why regular inspection is important. If you suspect something is wrong with it, our technicians can help you.
The Benefits Of DC Motors
DC stands for direct current. Up until recently, most garage door motors were AC (alternating current) powered. Today, most manufacturers opt to build their opener models with a DC motor, as these devices are smaller in size, more advanced, faster and quieter. They are required in order to integrate a backup battery system, since they enable the immediate switch from electric power to battery operation once the main power source cuts off.
Travel Limit Adjustments
The distance your door will go, or literally "travel" depends on the limit settings of the opener. If the door doesn't open all the way or leaves a gap when it closes, then the travel limit probably needs to be adjusted. This is a delicate issue, as you can accidentally cause your door to slam to the floor if you don't know exactly what you're doing. Our experts can help you with this type of issue.
Sensor Issues And Other Problems
If your garage door starts reversing for no obvious reason, then the opener safety sensors could be misaligned. Their position needs to be precise, as otherwise they will fail to detect an obstacle and the door may end up hitting something or someone. Our technicians can do this for you. If there is any other type of opener related problem you're experiencing, don't hesitate to contact our team at Garage Door Repair Auburn right away.
Let our team take care of it for you!
Roll up Garage Door Maintenance
New Opener Remote Controls
Extension Spring Adjustment
Overhead Door Repair & Installation