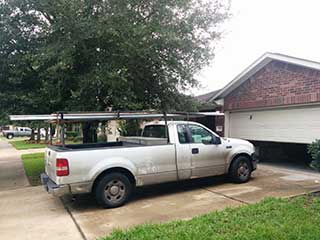 As a company with years of experience in dealing with garage doors, our team understands the different problems our customers can come to experience. No matter which part of the system is at fault, our technicians can handle the issue and restore the door to its optimal working order.
Moving Parts Develop More Wear And Tear
There are a lot of moving parts involved in the operation of your door. The springs, for example, are the ones who do the heavy lifting. They counterbalance the weight of the door panels (which can range from 80 to 300 pounds or more) and provide it with the necessary tension to help it move. As a result of being under a lot of stress on a daily basis, these components will gradually degrade and will eventually break. Spring replacement is a dangerous task, and it needs to be performed by experts to avoid the potential injuries. Our technicians can take care of it for you.
Motor Gear Issues
If you have a garage door opener then you surely appreciate the convenience and efficiency this device has to offer. However, if something was to go wrong with it, you'd suddenly find it to be incredibly annoying. If your door won't open but the opener starts making a weird droning noise then its motor gear may be worn. Our technicians can replace the damaged gear and make sure your door is able to open effortlessly once again.
Track And Roller Troubles
If you find that your door's movement is being hindered by something, the tracks or the rollers could be damaged. Tracks can become blocked by debris or develop bends that will cause the door to make out an annoying grinding sound while it moves. The rollers can wear out, in which case they won't facilitate the door's movement as well as they're supposed to. Both of these issues can be easily solved by our experts. We can also realign tracks and even replace them if their condition becomes too severe.
Nothing Is too Complex For Us
If some of your panels got damaged and you want them to be replaced, or anything from the cables to the hinges is causing you some problems, all you need to do is give our team a call. Our specialists at Garage Door Repair Auburn have a great deal of experience. There's no problem we can't deal with safely and effectively.
Our team can also take care of:
Garage Door Tune Up Services
Belt Drive Garage Door Openers
Broken Spring Replacement & Repair
Emergency Garage Door Repairs