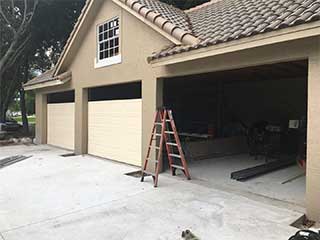 Investing in an overhead door that meets your needs will be beneficial in the long run. But simply getting a great system installed isn't enough. Any complex mechanical device needs to be regularly maintained in order to continue working optimally. The key to ensuring smooth operation and extending the longevity of your system is having your door regularly examined, tested and (if necessary) repaired by professionals like our expert technicians.
A Complete Examination
Garage doors are typically used on a daily basis, making them prone to wear and tear. They are usually the heaviest moving part of your home. Reports of injuries inflicted by broken springs or a faulty door are not uncommon, even though they are often avoidable. Our team will check the condition of every part of the system and make sure it hasn't sustained too much wear and tear damage. We'll pay particular attention to the springs and the cables, make sure they aren't wearing out or getting frayed and lubricate or adjust their tension as necessary. The pulley system and rollers will also be examined, as will the tracks and the panels themselves. Any metal moving component that can benefit from lubrication will be treated with the appropriate substance to keep the system's performance smooth and efficient.
Opener Related Tasks
If you have a chain-drive opener, our team will check its chain and adjust it as necessary to make sure the unit has no trouble opening and closing the door. If you have a screw-drive model we'll lubricate the drive system to ensure its efficiency. Another key focus of ours will be the safety sensors. These photo-electric eyes will need to be checked to make sure they are aligned correctly and that the door actually reverses when they detect that something got in its path. Our team will test these components and realign them if they fail to work properly.
Prevention Is Key
Our company understands you want your garage door to be dependable. This is why aside from providing high-quality repair services, we also offer scheduled maintenance appointments as a way to ensure the door and all of its different components is able to live up to its full potential. This service benefits customers who want to reduce the potential for needing emergency repairs. Contact our experts at Garage Door Repair Auburn today to book an appointment.
Give our team a call if you need help with:
LiftMaster Chain Drive Lubrication
Screw Drive Opener Replacement
Oil Tempered Torsion Springs
Garage Door Cable & Track Repairs